Ed Mount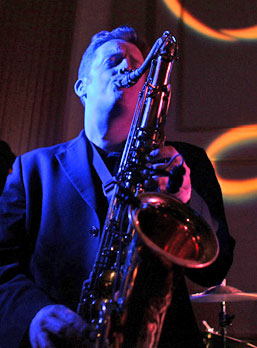 A Native of South Philadelphia's St. Monica school district, Ed started playing saxophone in 4th grade when urged by Sister Mary Thomas IHM. Not completely taken by the good sister's offer, he was ready to quit and move on to watching television professionally. Ed's mother, alarmed by this turn of events did the only thing a responsible mother could do…she bribed him. Ed agreed to continue his study of the saxophone. In turn, Ed's Mother purchased him the expensive and now "Classic" Optimus Prime Generation 1 Transformer action figure.
Throughout his teens, Ed's genuine love of music eclipsed his interests in intergalactic robots from Cybertron. St John Neumann's High School concert band provided a great opportunity for Ed to expand his knowledge of music, theory and performance of the oboe. Outside of school, The South Philadelphia String Band fed his desire to perform in front of live audiences and provided Ed with the opportunity to perform alongside his father who was also a member of the band.

Ed's college years at West Chester University were a turning point for him musically. It was at WCU where Ed was fortunate enough to study Jazz theory, improvisation and performance with the great Jazz Jedi Master Larry McKenna. During the school year, he performed in the prestigious Criterion's Jazz Ensemble and formed a friendship with another member of Chico's Vibe, Matt Gallagher. During the summers, Ed performed in the Six Flags Great Adventure strolling band and comical group.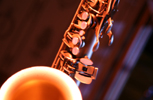 In 1995, Ed graduated WCU with a Communications degree and moved to Los Angeles, California for two years where he worked in the special effects industry for such motion pictures as "Godzilla," "Armageddon," "Stuart Little" and "Pitch Black." These were all films in which he did not receive a screen credit. Don't worry; he's not bitter about it.

Ed is currently the business manager of Chico's Vibe. He's happily married to the love of his life Suzanne, and is a proud father to his son Colin.