John Yadush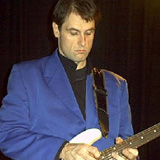 John Yadush was born in Whitehall, PA, and began playing guitar at the young age of 15. John loved to play all styles of music and it showed when he graduated with high honors (the top 15 students in his class) from Musicians Institute - GIT in Hollywood, CA.
John's love and talent for music education inspired him to teach private lessons. He enjoyed teaching so much that he enrolled in Temple University to study both Classical and Jazz music education in a five-year degree program. He graduated summa cum laude with a fantastic and incredible 3.88 GPA and in the top 4% of Temple's graduating class of 2002 (He's pretty smart).
After completing his education at Temple, John then moved to Baltimore, MD where he is now a guitar specialist teaching guitar classes full time at a high school and loving it. In addition to teaching, John also has several private students.

John commutes weekly to the Philadelphia area to perform with Chico's Vibe. When asked why, he simply states "Chico's Vibe is the most talented and fun band I've ever been a part of - the sax player is especially cool cuz he takes orders so well - see, I'm his boss in the band."